Many Shops in One Location
Ivy's Porch is an unique collective shop offering an array of home and garden items with Vintage flair and casual elegance. Over a dozen dealers carry furniture, accessories, collectibles, Vintage inspired gifts, Vintage travel goods, boutique clothing and jewelry.  Our garden paths are full of embellishments and outdoor enhancements.
For furniture, accessories and décor, be sure to visit our Main House as well as the Barn, the Shed, the Cottage and our rooms off the Back Deck.  You'll find Vintage and Antique tables, chairs, dressers, mirrors and garden accents to complete your vision.  New items arrive daily.  We hope to see you soon.
 2023  Hours
   Closed Tuesday
       Monday ~ Wednesday ~ Thursday ~ Friday   11-5
Saturday 10-5
Sunday 11-5
                                      *Please note Ivy's Porch will only be OPEN  in this Location until 12/31/23
                                     See our Facebook page for new location updates after the 2024 New Year
                                                      'Selected' markdowns through the shop! Huge Savings!!
                                                             Plus new merchandise is being added daily!!!  
                                                  Our shops are filled with décor and unique gifts for everyone you love.
         Bring your Girlfriends, Moms and Daughters for a fabulous shopping day!
            Please visit our "Ivy's Porch" Facebook page for more photos of our unique inventory, special events & more!
​

​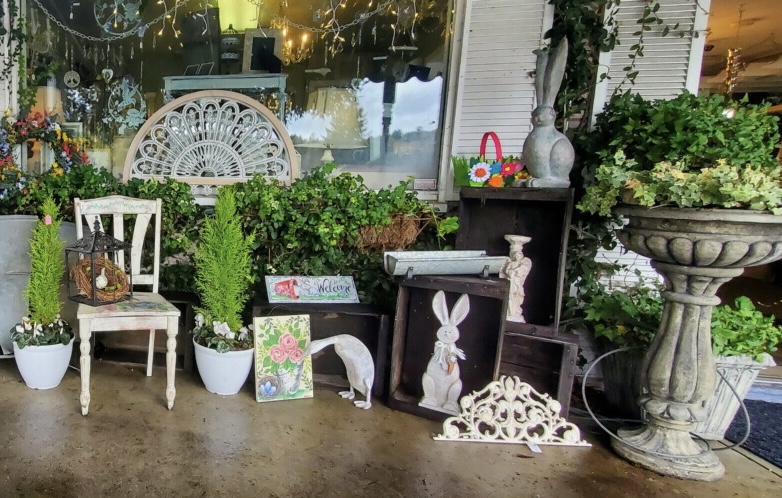 New items daily.  Stop by and say hi.

Old and New – It's waiting for you.
Visit us for unique one-of-a-kind shopping.
​